8(800) 350-02-48
Free call in Russia
Sales department +7 (812)&nbsp612-30-03
Department of metrology +7(4932)&nbsp&nbsp&nbsp23-28-44
Design department +7(4932)&nbsp&nbsp&nbsp23-67-15
Since June 2016 our factory has extended a warranty period for its products up to 2 years
IR 5074-3 Tensile machine on 3kN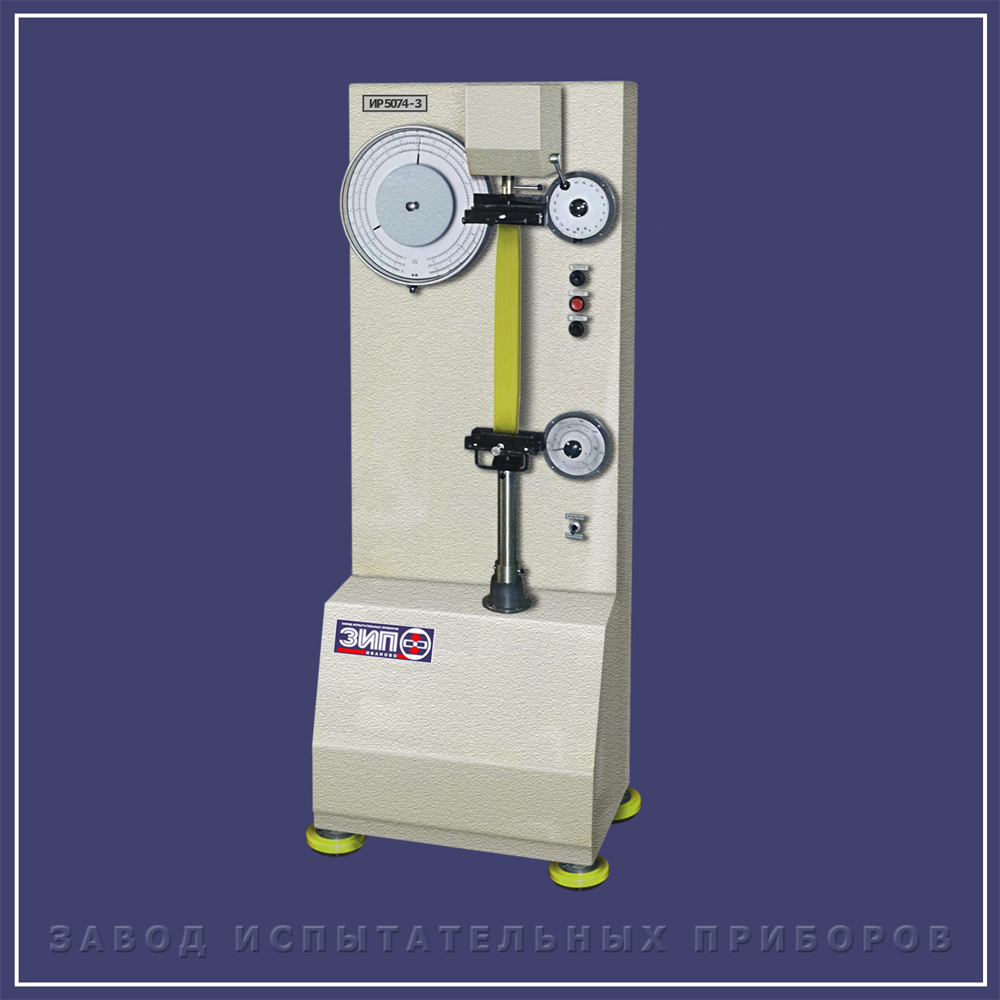 Designed for testing:
- textile materials from natural and synthetic fibers in accordance with GOST 3813-72
- yarn in skein to break by
GOST 6611.2-73
- knitted fabric and non-woven materials for punching with a ball.

Machine Drive – electromechanical,
force meter - pendulum, tri-band.

The machine is mounted on vibration mounts, no foundation required.

The machine is equipped with grippers with sponges with a wave notch for fabrics and special hooks for testing yarn in skeins.
Completeness of additional delivery:
- ball knitting device for non-woven fabrics;
- dynamometers for calibrating the force meter: DORM-3-0.5U; DORM-3-1U and DORM-3-5U GOST 9500;
- a set of devices for testing shoe elements.
Type Approval Certificate SI ROSSTANDARD OF RUSSIA No. 52450.
TECHNICAL SPECIFICATIONS
Type of load cell
pendulum
Maximum test load, kN
3
Number of measuring ranges
3
Range of measurement of load, kN
     range A
0 - 0,50
     range B
0 - 1,0
     range C
0 - 3,0
The price of the division of the load meter, N
     range A
1
     range B
2
     range C
5
The limits of the relative permissible error of the load measurement in the forward stroke, not more than, %

     in range A 0,1 - 0,5 kN
±1
     in range B 0,1 - 1 kN
±1
     in range С 0,3 - 3 kN
±1
Limits of the absolute permissible error of the load measurement during the forward stroke, no more, N
     in the range A less than 0.1 kN
±1
     in the range B less than 0.1 kN
±1
     in the range C less than 0.3 kN
±2,5
The range of the load meter should not exceed, %
     in the range A 0.1 - 0.5 kN
±1
     in the range B 0.1 - 1 kN
±1
     in the range C 0.3 - 3 kN
±1
Range of measurement of deformation (movement of active capture), mm
0 - 200
The limit of permissible absolute error of the strain gauge, mm
±1
Parameters of speed of movement of active capture
     speed setting ranges, mm / min
25 - 250
60 - 600
     deviation from the set value no more than, %
±10
The initial distance between the grippers with an accuracy of 1 mm with an interval of 25 mm
     when testing textile materials
0 - 250
     when testing yarn in skeins
500
Maximum distance between captures, mm
     when testing textile materials
480
     when testing yarn in skeins
680
Pre-tensioning fabric, N
0.15, 0.25, 0.40, 0.50, 0.60, 1.0, 2.0, 2.5, 5.0, 10.0, 15.0
Error of measurement of preliminary tension of fabric, no more than %
±10
Power consumption kW
0,27
Overall dimensions (width x length x height), mm
750х500х1730
Weight, kg
240