8(800) 350-02-48
Free call in Russia
Sales department +7 (812)&nbsp612-30-03
Department of metrology +7(4932)&nbsp&nbsp&nbsp23-28-44
Design department +7(4932)&nbsp&nbsp&nbsp23-67-15
Since June 2016 our factory has extended a warranty period for its products up to 2 years
ZKRP-200 Captures wedge lever pneumatic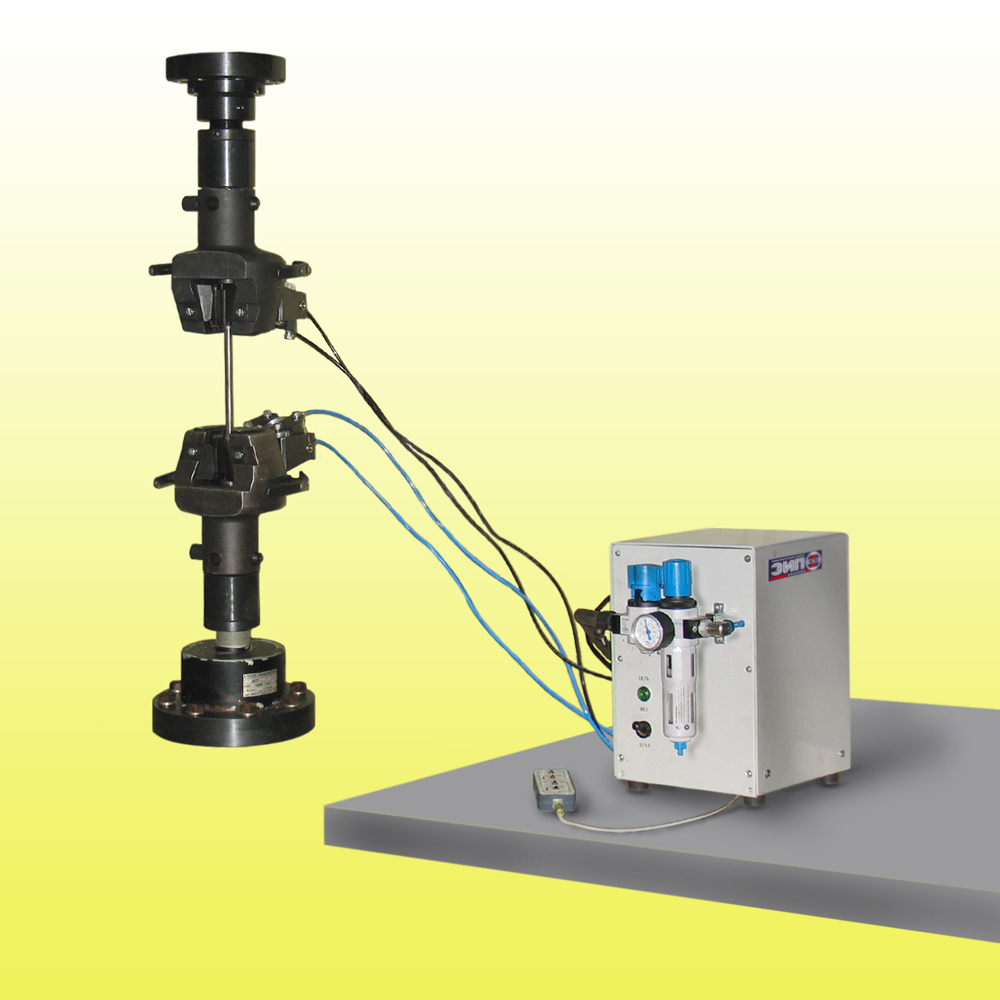 Captures are designed to secure and hold flat or cylindrical specimens during tensile testing.
Materials for tests: metals, plastics, including thermoplastics and other materials within the technical capabilities of captures.
Sample types: flat, cylindrical, wire, tape, as well as rods of round, hexagonal and square sections.
Completeness of the main delivery:
- set of grips with pneumatic cylinders;
- control unit with air preparation
device;
- control panel.
The grippers are equipped with a large set of clamping jaws with removable liners made of materials with high hardness, self-aligning jaws, roller cassette guides for moving clamping jaws and a pneumatic device.
Grips adapted to machine design IR 5143-200 and can be delivered to cars
IR 5113-100 and IR 5145-500.
Distinctive features of captures are:
- wide range of test samples;
- reliable fastening of samples with a high degree of hardness;
- convenience and speed when fixing samples.
The design of the grippers is protected by patents: No. 2116643, No. 2222799 and No. 2282173.
TECHNICAL SPECIFICATIONS
Maximum test load, kN
200
The initial thickness of the sample (type 1 and 2 according to GOST 11701 and GOST 1497), mm
0,5..12,0
Initial dimeters of cylindrical samples and rods, mm
4,0..15,0
The maximum diameter of the sample head (type 6 and 7 according to GOST 1497), mm
22,0
Diameter of the test wire (including carbon), mm
1,0..8,0
Thickness of thin sheets and tapes, mm
0,2..3,0
Cross-sectional area of ​​bars of hexagonal and square cross-section no more than, mm2
200
Pneumatic capture operability:
        AC voltage
220V, 50 Hz
        compressed air of the 10th class of pollution in accordance with GOST 17433-80 pressure, MPa
0,3..1,0
Power consumption, no more than, kW
0,1
Overall dimensions of one capture (without handles), no more, mm
190х285х260
Overall dimensions of the BUP-1 control unit, mm
186х280х284
Mass of a set of captures (without jaws), no more, kg
52
The mass of the control unit BUP-1, kg
6,5